It is no doubt that Modern Standing Lamps can be the furniture piece that gives any space the final look desired. The best complementary home decor piece can be absolutely anything like a well-appointed floor lamp that should reveal a lot about what we need to convey. Besides its complementary classical, vintage, or innovative shape, modern standing lamps can boost any room intimacy by adding the right lighting effect. These will provide any room with a particular mood and add to its overall style.
Personally, and among modern standing lamps, I love to add a giant curved dark-colored floor lamp as the best complementary home decor that would convey an industrial and innovative look. My sitting room, where I spend most of my time working and reading, would feel more proficient and comfy as the floor lamp adds to the room aesthetic and works as a focal point.
---
homeideaux.com is a participant in the Amazon Services LLC Associates Program, an affiliate advertising program designed to provide a means for sites to earn advertising fees by advertising and linking to Amazon.com. This means if you click on the link & purchase the item, I will receive an affiliate commission at no extra cost to you.
Still, subject research and all opinions remain my own.
---
So, How to Better Choose Your Decorative Floor Lamp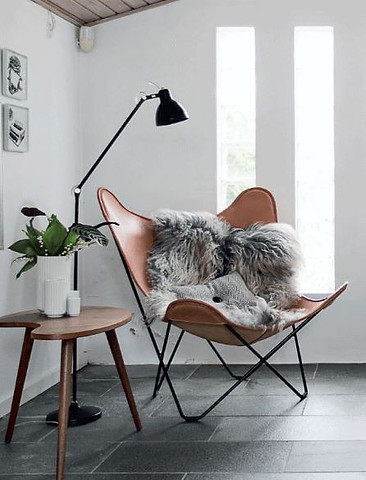 Knowing that the best complementary home decor in a room is a standing lamp makes the mission easier. It is now all about which style and what material to choose. I can summon the advice for selecting your decorative floor lamp under three main points as follows.
1. The mood you want to bring about to the room
The standing lamp you choose should tell a lot about your taste orientation and how you like to express yourself. Some people would go with a vintage look and express their love for classics and traditions. Usually, a vintage standing lamp would bring uniqueness and style to your room.
Others would go with modernity to reflect their urban orientation. A good example would be the minimalist design I have referred to previously. A modern look standing lamp would liven up your space with its clean straight lines, warm neutral colors, and materials that include a mixture of woods and metals.
Still, others would go for the Mid-Century style that comes with a mixture of both organic and geometric shapes. This style reflects much of an aristocratic taste and conveys respect to functionality and nature.
The industrial style, which is more or less a modern orientation, is inspired by factories built during the years of the industrial revolution. Usually, it contains concrete, iron, and steel and is very durable. People who seek this style are generally handy, rebellious, and edgy.
2. Complementing the room theme with a slight opposing style
Here is some good advice about mixing and matching modern standing lamps with the room's overall style. Try to bring an element of earthiness and smoothness by adding a floor lamp that slightly opposes the room style. For example, if you have an ultra-modern space in your sitting room, try to use a modern floor lamp rather than an ultra-modern lamp. You want to add brilliance to your room, so avoid packing it with a stiff look and go for some mildness of slight style deviation instead.
Also, make sure to get the floor lamp size right. For example, skinny minimalist lamps will get lost in a big room full of oversized furniture. Also, a heavy and giant floor lamp will look very dull in a tiny and elegant sitting room. So make sure it is good to!
3. The effect of lighting that you seek
The lighting that you choose for your room would be either functional lighting, directional lighting, or romantic lighting to create the needed visual effect you want. It all depends on what you need the lighting to do in your room.
Generally speaking, romantic lighting has a low light wattage, around a 40-watt range, and the option of dimming, while directional lighting has a wattage around 60. On the other hand, functional lighting should be anything over a 100-watt range.
You can always customize your standing lamp with different shapes of base light bulbs according to your criteria of electricity saving and mood options.
The available LED bulbs give us a great choice of color temperature options. So we can choose to give your room a golden yellow glow or stick to a cooler white light option.
Lastly, remember that what we want to create is the right look with what we buy and how we use it, so make sure your floor lamp has the right impact on the ambiance of your room.